About Us
We are the provider of the largest library of high-quality property videos and the creator of technologies that help digital marketers, creatives and developers to build the future of visual search on their websites and mobile apps.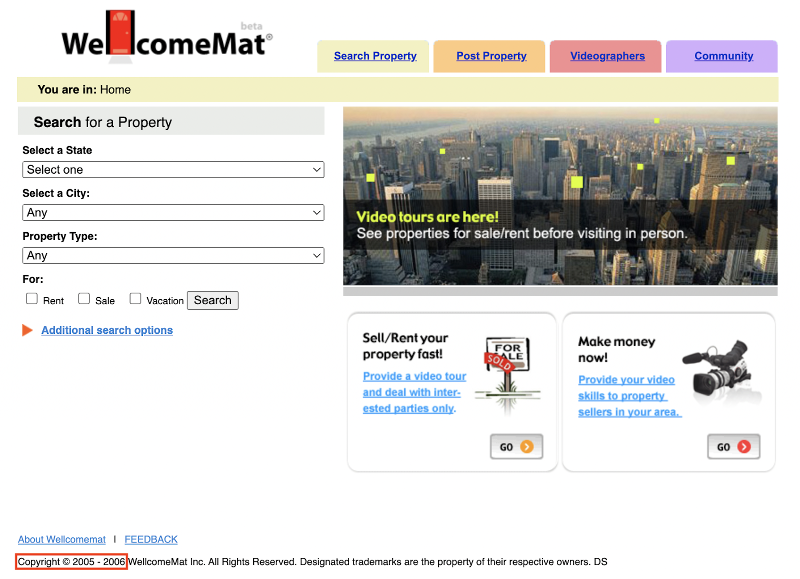 Our ZigZag Path to Success...
In July of 2006, we launched WellcomeMat, a real estate video search portal. If there were enough real estate video tours in existence at the time, this would have been an amazing idea, but there weren't.
Image: WellcomeMat's homepage in July of 2006. Each yellow square on the homepage image represented a video viewed.
We were obsessed with helping people to find new places to live, work and play via video so–instead of changing our objective–we changed our strategy and mission to the following:
"WellcomeMat is making video the center of the real estate consumer experience by maximizing the value of video for agents, brokers and brands."
Aha!
The execution of this mission helped us to reach some very important milestones:
We became profitable by serving brokerages that shared our enthusiasm for the power of video,
We built the largest network of real estate video production companies, whom used our system to fulfill videos for their clients,
We established the best video distribution system that existed in real estate.

As it turned out, real estate companies needed a single place to efficiently manage all of their company's videos, where they could reach the most consumers with every video they uploaded. Still today, total views per video uploaded is the statistic that WellcomeMat's team cares the most about.

Aha #2!
Sort of by accident, we invented the tools and technologies that unleash the true potential of video, 360 degree video and 3D in real estate. Instead of people having to watch videos (the whole pizza) from start to finish, we wanted to make sure people could find, watch and share the most important parts (slices) of videos…
Image: WellcomeMat's video chaptering and search tools, patents 8,170,395 and 8,307,286, are core to the future of rich media.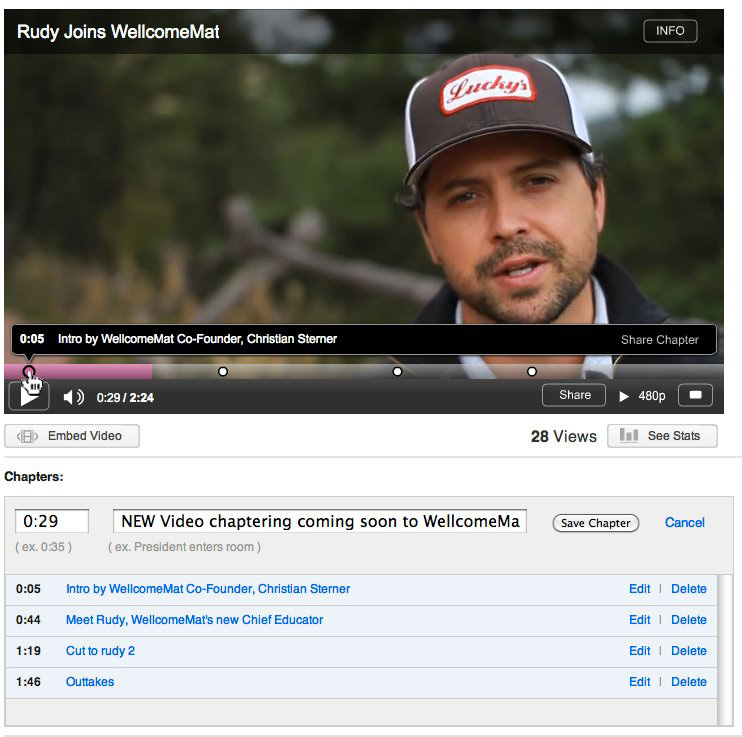 THE FUTURE OF REAL ESTATE
WellcomeMat patented technologies are used to...
Centralize Video in MLS

Share Videos Everywhere

Analyze Videos
Upload, Replace and De-activate
Realtors and Brokers can easily upload and replace videos directly within the MLS. Videos chapters can be added and changed within the MLS, ensuring that the most important parts of videos are watched.
Share Videos Everywhere
After a video is uploaded, it is distributed with MLS' data and can be viewed on all participating websites, directly on the property landing pages. Videos can be shared easily in emails and through text. Additionally, Realtors and Brokers can link WellcomeMat to their social media platforms and share listing videos throughout their personal and professional channels.
Get Endless Analytics Data
As a user, you will be able to track and view a wealth of analytics for your properties. You can see what parts of the video performed the best, what people rewatched, how many views your video got, and more to get information about how to best share property videos in the future.
Our Dream is Coming True in 2023
To make video the center of the real estate consumer experience, we've always made it the most valuable tool that agents, brokers and brands used to market themselves and their properties. In simple terms, what this means is helping our users and customers to reach the most amount of real estate consumers with each video uploaded to WellcomeMat.

Now, WellcomeMat is partnering with as many multiple listing services (MLS) as we can because we want to ensure that all property assets remain under their rightful owners, the Realtors. We want to give the power back to the MLS.